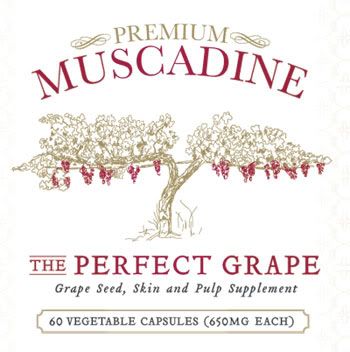 The Whole Wellness Club is very excited to offer you Nature's #1 Source for Resveratrol and other antioxidant compounds too numerous to list.
The synergistic benefit of having Ellagic Acid, Resveratrol, Quercetin, and so much more in one amazing fruit is astounding. There is nothing else like it and it's exclusive to the Whole Wellness Club.

The research on the benefits of whole Muscadine Grape in relation to heart disease, cholesterol, pre-diabetes, diabetes, metabolic syndrome, cancer, inflammation, arthritis, gastrointestinal health, and longevity is amazing.
Muscadine grapes may also be beneficial for skin, eyes, prostate health, fatigue, headaches, menopause, anti-aging and so much more.
This fruit is a national treasure. It truly is "the Smarter Grape" and so actually "The Perfect Grape " !
Muscadine Grape seeds, skin, and pulp are 100% pure, and naturally organic. No alcohol or chemical extractions were used in the processing and contains no artificial colors or additives.
The Perfect Grape is now available to Whole Wellness Club Preferred Customers and Wholesale Distributors/Members for only $32 plus discounted S & H. Absolutely Perfect !
60 Vegetable Capsules...650mg each
Recommended Serving: 2 Capsules
Please feel free to contact me with any questions regarding the products and how you can receive Muscadine "The Perfect Grape".
Healthy & Prosperous Blessings to you,
Barbara Arbster
724-727-3547 Eastern
The Whole Wellness Club
Natural Healing Home Business Remedies
Don't forget to:
Follow me on Twitter:
Twitter.com/barbster
Friend me on Facebook:
Facebook.com/barbara.arbster
PS....I'm not here to just sell a product....I'm here to also help you with your health
~~~~~~~~~~~~~~~~~~~~~~~~~~


Barbara Arbster
is an Online Entrepreneur whose intention is to inform and help others of total whole wellness of body,mind &spirit which she does through networking to connect with like minded individuals with the same desires. Barbara earns a full time income from the comfort of her home and available for support to those interested in doing the same. You may also visit Barbara at
www.BarbaraArbster.com
I am a member/independent distributor with The Whole Wellness Club and I will earn commissions on their products when purchased through my website.
I must include this disclaimer…The content of this article is intended "for educational purposes only" and should not be construed as medical advice.Individual results will vary. As required by the U.S. Food and Drug Administration (FDA): "These statements have not been evaluated by the FDA. This product is not intended to diagnose, treat, cure or prevent any disease." Disclaimer: Do not use any natural supplement as a substitute for medical treatment. Always follow the advice of your personal physician and do your own personal research.